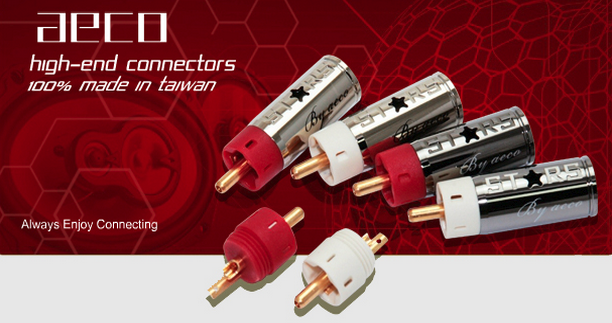 Mechanical structure:
The contact pin is formed on the body by plastic injection.
The STAR modeling use the characteristics of Nylon composite material which is flexible enough to connect with jack tightly.
Grounding use Latch mode to be assembled tightly with body.
Thenon-coaxial design makes the signal reaches "One Point Contact" idea when plug connect to jack.
After well soldering the wires on positive and negative part, the shell locked with body by screwing and to fix the cable with shell stable by a screw.
Material:
Contact Pin: Pure Silver (silver contains over 99.9%)
Grounding: Pure Silver (silver contains over 99.9%)
Body: Glass fiber reinforced nylon (Red / White)
Shell: Brass alloy (#C3604) Screw: Iron
Finish:
Contact Pin: none
Grounding: none
Shell: Engrave by CNC lathing machine / Logo printing / Zinc alloy plating Screw: Nickel plating
Dimension:
Biggest OD 13.7mm
Cable hole 08.5mm
Total Length 43.7mm
Product production process comply with RoHS
Product made new ROC patent No. M463447
Recommend soldering temperature:
Temperature Soldering Iron, please keep 380 degree within 5~8 second
Temperature Soldering Iron, please keep 360 degree within 9~13 second
Temperature Soldering Iron, please keep 340 degree within 13~18 second
Temperature Soldering Iron, please keep 320 degree within 19~25 second
Continue shopping