THE - A5 - A UNIVERSAL PRE-AMPLIFIER MODULE
FEATURES
Due to the use of the latest technology this module is not only much smaller than other available modules, but has a truly professional performance.
The entire hybrid circuit is fully protected against mechanical shocks and the ingress of dust and moisture by a protective coating of lacquer.
Because this AMPLIfier MOdule uses a seventh of the material used by similar potted modules it is also more environmentally friendly.
The two stage ampli mo is a complete and multi-purpose module as it contains all of the most commonly used functions; the first stage of the preamplifier contains the amplification and equalisation circuits for phono and microphone inputs, the second stage amplfies the larger signals and contains the volume and active tone control circuits. The only additional components required for the A5 are the potentiometers for the volume and tone controls. No output capacitor or supply capacitors are required as the module contains its own voltage stabilisation circuits.
Years of experience and the use of the latest components have been applied to the design of this module, resulting in:
Extremely low noise and outstandingly high audio specifications by the incorporation of high performance op-amps containing both JFET and BIPOLAR transistors; allowing a dynamic microphone to be amplified without the need for a microphone transformer.
Universal preamplifier with large headroom, gain control and inputs for phono, CD, tape, tuner, auxiliary, etc.
Symmetrical microphone input for maximum hum suppression.
The possible use of a phantom supply.
Immunity to high frequency interference.
Phono input with RIAA equalisation accurate to 0.2dB, very low noise and with the possibility of a rumble filter.
Active volume control making the A5 almost impossible to overdrive whilst also keeping the noise level very low. Even a +6dB CD input will not overdrive this amplimo module.
Sophisticated active tone controls with optimum characteristics and large control ranges. Because of their low impedance, the tone controls are immune to hum and oscillations and therefore do not require the use of screened cables.
Wide frequency range that is slightly limited in the first stage to ensure stability.
Short–circuit proof output (pin 17)
An A5 preamp is suitable for use with all AMPLIMO power supplies and power amplifiers. Suitable supply voltages are + and – 20V. (symmetrical voltages). The supply current is 15mA max.
DOWNLOADS
Share this:
Related products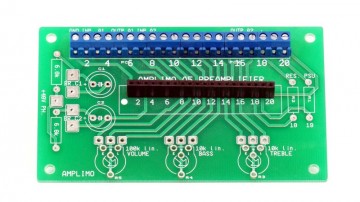 Share this:
---
| | |
| --- | --- |
| {Voorraad}: | in stock |
| part number: | PCBA5 |
---
---
Continue shopping